Want to know where you can see Vittorio Carli? Check out the NEWS.
The Reason this Web Site is Here!
Vittorio's film and art and cinema reviews have appeared on www.reelmoviecritic.com (no longer online), chicagopoetry.com, and in the publications: Dialogue, Venus, Chicago Artist's News, The Daily Herald, The Star Newspapers, Tunnel Rat, and Letter eX.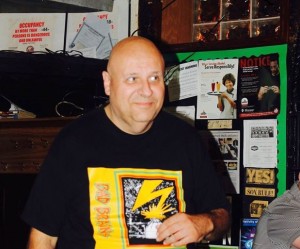 A collection of his poetry titled A Passion for Apathy was published by Press of the 3rd mind in 2012. His poetry was also translated into Italian, and it appeared in Poesia magazine in Italy. His "Dead Poem "was published in Children, Churches and Daddies last year by Scar Publications. His poems have been published in Best of Chicago Poetry, Online! the Chicago Poetry Renaissance, Café Review, Rambunctious Review, Polvo, The American Dissident, Dissent, Struggle: The Journal of Revolutionary Literature, Mind in Motion, Alphabeat Press, Alternative Press, Poems of the World, Religious Humanism, The World Salad Anthology, and The Anti Mensch.
He has done poetry and performance art with Theater Ted, the Usual Suspects (at the Bucktown Arts Fair), and the art collective, The Ever So Secret Order of the Lamprey. He has taught composition, literature, and film at Columbia College, Daley College, and Moraine Valley Community College.
He has participated repeatedly in the art event/be-in/happening, Lovechaos, and he co-founded the Columbia College Genremelt (d) with fellow instructor, Dan Godston. He is scheduled to perform at banned books reading on October 2 as well as October 26 at Brewed Awakenings at 1230.
He has done celebrity interviews with Moby, Mary Woronov, Chris Connelly, Katherine Chronis, Karen Finley, Cynthia Plastercaster, John Sayles, Darren Aronofsky, Tom Tykwer, Abel Ferrara, Franka Potente, and Paul Hoover. Many of them can be found at his web site at www.artinterviews.org
He hosts a poetry show at the Art Colony at 2630 W. Fletcher on the second Saturday of each month from 7-9 p.m. Almost anything goes! No entrance fee. He also talks about films on Cathleen Bartel's show Sundays on WBEZ at 83 FM.
Here's Vito's poetry performance on 1/12/2010 at The Gallery Cabaret.